Drag has gone mainstream and that means that TV viewers around the world can't get enough of all the queens we know and love. After 11 seasons and a slew of Emmy's, RuPaul's Drag Race has finally conquered the mainstream entertainment market, and that's led to big things for other drag artists around the globe.
As successful as RuPaul's Drag Race has been, however, there's far more to drag than a sickening runway and a slew of eager "stans". In its purest sense, drag is all about finding your place and identity – in a world that's trying constantly to shut you down.
Welcome to the stage Drag SOS, a new drag-centric reality makeover show that splits from the RPDR theme of competition quite determinedly.
Drag SOS is not the anti-Drag Race, but it is an alternative to the dazzling world of drag that mainstream viewers have now been introduced to. It's lovely program, centered all around helping those who need help adding a little extra sparkle in their lives.
Family Gorgeous (made up of Cheddar Gorgeous, Anna Phylactic, Lil, TeTe Bang and Liquorice Black) take to the streets in their glittery bus and lend a helping hand to those who might be struggling with life, and the difficult challenges we all face daily.
From fathers who are reconciling their relationships with their gay sons, to single moms who feel lost in the identity hoisted on them – there's not a soul in need that Family Gorgeous doesn't touch, and it's a beautiful sight to see.
Anna Phylactic told Digital Spy:
"There were lots of people just with so many amazing stories. I think the one that affected me the most was a woman called Alison who we met in Dudley. It was just a really sad story because she had transitioned and then we were wondering whether her family would actually come and see the show."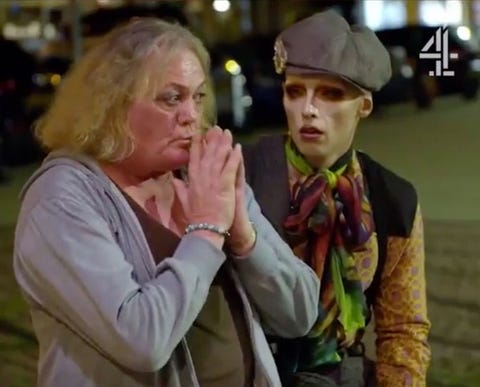 Some view RuPaul's Drag Race as attempting to put drag "in a box", but Drag SOS works hard to avoid that pitfall. The show is all about the journey of discovery that defines drag, as well as little life-affirming wins that can make our struggles that much easier.
The show sends the message that drag is for everyone, and that's a message that we can all appreciate. Regardless of gender or sexuality, Family Gorgeous sets out to make radically positive changes in the lives of people in need, and it's a goal they succeed at.
"When I started doing drag, no-one told me that I couldn't," says TeTe Bang, a female member of Family Gorgeous. "When I started doing drag, I didn't see people who represented me, so I decided to create it myself."
Family mother, Cheddar, knows there are no rules when it comes to drag, and that's something this matriarch treasures.
"With TeTe being a woman, she's the one all the people question and yet she's the best drag queen around. She does absolutely everything. I can't sew, she sews, does hair and make-up, entertainment."
No matter who paved the way or who opened what door, we're excited to see what Family Gorgeous does with the momentous new opportunity. One thing is for sure, it'll be full of glamour, laughs and entertainment along the way.
Drag SOS airs Tuesday, June 25th at 10PM on Channel 4.